All Prices include P&P (Rest of World sent Airmail).
Please use the Drop-down Menus to select the appropriate price (member, region).
Haworthiad Special Edition – A blend of beauty (one hundred GM Haworthia hybrids) by Gerhard Marx

This latest Special Edition (published in Autumn 2022) celebrates the work from one of the finest growers and hybridisers of Haworthia plants in the world, Gerhard Marx.
Gerhard lives in the Western Cape in South Africa and has been involved with growing these wonderful plants for many years. As well as being a great grower he is an internationally renowned botanical artist, his work has been used in many books as well as several series of stamps. The cover painting on this publication illustrates his amazing ability.
Gerhard started to experiment on hybridisation in the early 2000s and as you will see from this book has achieved some outstanding results since then. He has described some of his techniques for seed production and the selection of the resulting plants to obtain the best ones and you will see from the text about the one hundred  individual plants the intricate history behind each one.
Haworthiad on DVD 2nd edition Volumes 1 to 35 (1986 to 2021) including the Special Editions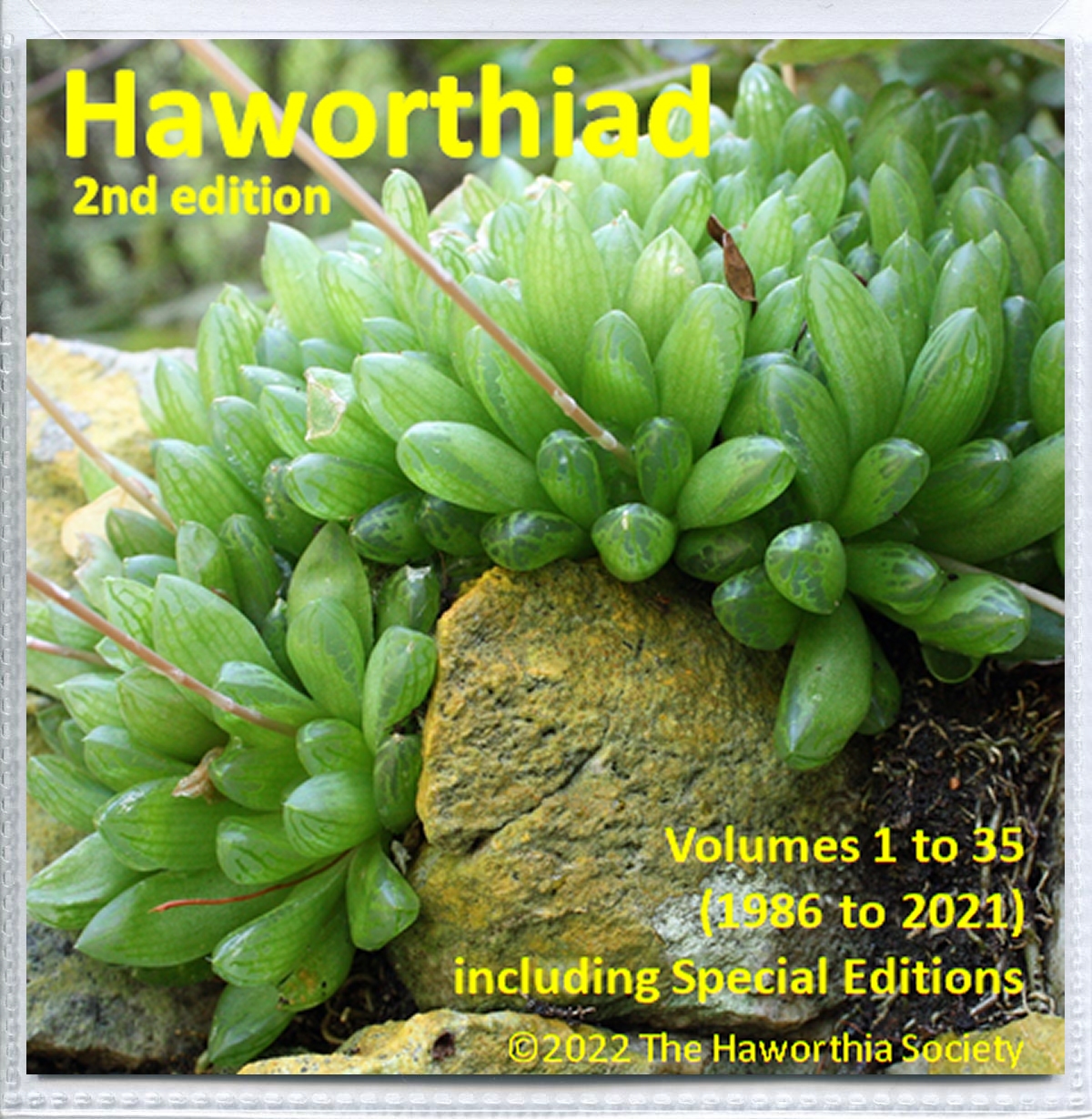 This updated DVD holds a single pdf file of 4,188 pages containing many hundreds of photographs and a wealth of information on haworthias, gasterias and allied genera, not found anywhere else in the literature. The pages are sourced either from the original electronic media or by scanning the original printed copy, so every page is identical to the published hard-copy.
The file contains the following publications in order:
1. The Special Editions (The Haworthia nomenclator; From Adrian Haworth to Haworthia; Haworthia Supplement by Bruce Bayer; Hybrids and Cultivars – A 25th Anniversary Special Edition; Joyce Cocozza Special Edition)
2. Haworthiad – Volumes 1 to 35
The whole document has been 'read' by Optical Character Recognition software and can therefore be searched simply for any specific word or phrase.
Badges – Members Only
Our new badge featuring a new design is now available in three colours.

Haworthiad Special Edition Joyce Cocozza – a life in plants

(Reduced Prices)



A celebration of the life of Joyce Cocozza, former Vice-President of the Haworthia Society and renowned grower and hybridiser of haworthias.
A4 Landscape 40 pages in full colour inc. covers.
Over 130 images of wonderful haworthias from around the world.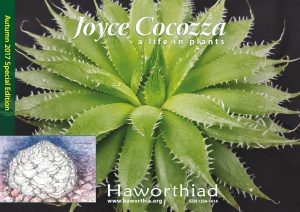 Contents:
Appreciations from Bill Hildyard (Editor), Alan Rollason (Chairman), Steve Hammer, Suzanne Mace, Stirling Baker and John Pilbeam
Cocozza Cuttings – Joyce's very first article from 1987
The Scientist – two articles by Joyce from 1989 on the Anatomy and Physiology of Pollination and Fertilization with Particular Reference to the Genus Haworthia
Many large photographs of plants originating from Joyce and her paintings/drawings
The Haworthia Nomenclator

A list of accepted species with some guidelines for infraspecific species, apublication from the Haworthia Society by the renowned field expert Bruce Bayer with John Manning. Listing new species, species, combinations and synonyms, this new publication attempts to bring some clarity to the often confused and muddled world of Haworthias. A5 24pages
** SORRY – NOW SOLD OUT (BUT AVAILABLE ON THE DVD **

Haworthiad 25th Anniversary Special Edition Hybrids & Cultivars

An international celebration of the Haworthia Society's 25th anniversary.
A4 44 pages in full colour inc. covers.
Over 160 images of wonderful Haworthias from around the world.

Contents:

'High-breds' or wanting weeds – Gerhard Marx
Some Japanese hybrids and cultivars from Fumio Hagiwara – Hiroshi Nakatani
Desserts – Mastodon vs. Mousse or, what's on the menu? – Steve Hammer
Japanese inspirations and California Sunshine – Renny Hosogai
Cocozza Cuttings – domino delights – Joyce L Cocozza
Thoughts on growing haworthias – Mary Parisi
The art and science of hybridisation – George Theodoris
The Silver Bug family and other hybrids – Francois Hoes
Haworthiad Back Issues

– Members Only

"Haworthiad" began life in 1986 as a simple un-illustrated newsletter of twelve A5 pages It has gradually grown to its present size and has remained in A5 format throughout its life. Note that it was published four times per year up to the beginning of 2006, when the decision was made to go to full colour and produce three editions per year. The Society keeps reasonable stocks of past Journals and usually most copies are available. Volumes 1-5 are reprints. They have been retyped on a word processor and reproduced on a laser printer. Volumes 6-9 are available as good quality photocopies, Volume 10 onwards are original, printed copies.

If ordering through the PayPal Shop, please let us know (Email) which Volume(s) you require.

Please note: Not all early issues are available – please enquire before ordering.

Note: The prices below are per Volume.
Binders – Members Only

Why not keep your Haworthiads together in a binder? It is much tidier and makes it easier to find them when you want to look something up! Haworthiad binders are dark green in colour and have "Haworthiad" embossed on the spine. They will each accommodate up to twelve issues (i.e. three years of volumes 1 to 15 or four years of volumes 16 onwards).
Alternatively contact: Bill Darbon: william.darbon77@btinternet.com. Cheques (UK only) should be made payable to "The Haworthia Society" and sent to the address on the inside front cover of the Haworthia Journal.